FAQ DE GILLIAN ANDERSON
(Perdon por la traduccion)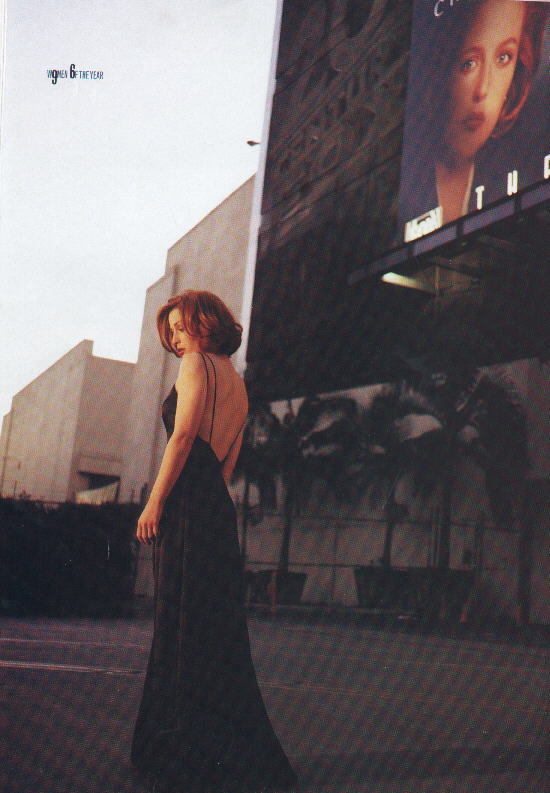 Version 3 GAFAQ®All rights reserved, The Gillian Anderson Web Site 1997
written by, Cynthia Schmidt
parts based on GAFAQ ver.1 by Alan Sawyer
special thanks to Jack Witzig for the idea of including internet
abbreviations
There are many frequently asked questions (FAQ) concerning Gillian, that The Gillian Anderson Web Site, will once and for all set the record straight. This is version 3 of the Gillian Anderson FAQ. The first version was compiled by Alan Sawyer and the GATB. This went eons without an updated until version 2 which is also now out of date. So now finally version 3. Please feel free to use the section on your website.


The Questions
1.Who is Gillian Anderson?
2.What are those vital Statistics?
3.What is Gillian's background?
4.Is Gillian married?
5.What is the Gillian NF connection?
6.What is Gillian Anderson like?
7.Does Gillian have an e-mail address?
8.What is the deal with that movie "The Turning?"
9.Did Gillian really have that nose ring and does she have a tattoo?
10.Is there a Gillian Anderson fan club?
11.Where can I find photographs of Gillian?
12.What are some of Gillian past works or performances and achievements?
13.What are all these abbreviations I see all the time?



1. Who is Gillian Anderson?


Gillian Anderson is an actress primarily known for playing Special Agent Dana Scully on the Fox Network's The X-Files. In the United States, the show was originally on Friday nights. However, in the fall of 1996, it was moved to Sunday night. The X-Files now airs world wide and on numerous channels. For example, in Singapore the X-Files has been shown at various slots, and currently the fourth season is on TCS5 at 9.30pm on Wednesdays. Reruns of earlier seasons are also on TCS and RTM2. In the UK it airs on Sky and the BBC. For upcoming episodes in your area there are several pages on the internet that list them;

The Official X-Files Site
GEOS
GAIN



2. What are those vital Statistics?


Most Gillian sites list these and the most complete version is on The Gillian Anderson Web Site. Gillian is 5'2" (Scully is 5'3"), smallish build, auburn hair, blue eyes (although they appear to change color somewhat), cute nose, fair Complexion (slightly freckled). The GAML's best guess at a shoe size was 7 USA. Personally, I have never had the chance to ask so I dunno.



3. What is Gillian's background?


Gillian (pronounced Jill'-ee-un), was born on August 9, 1968, in Chicago, Illinois, to Edward and Rosemary Anderson, and is one of three children.
She lived in Puerto Rico, and then in London, (her family still owns a flat there). At age eleven she moved to Grand Rapids, Michigan, where she graduated from City High in Grand Rapids in 1986.
Gillian then moved to Chicago and attended the Goodman Theater School at DePaul University (a major theater conservatory), in Chicago, IL where she obtained her Bachelor of Fine Arts degree. Gillian also attended a summer program at the National Theater of Great Britain at Cornell University in Ithaca, NY. She then moved to Chicago where she went to college. Once she gained her BFA, she moved to New York, New York. Where she made several theater performances and then to Los Angeles in about '91/'92. Upon gaining the role of Dana Scully, Gillian then relocated to Vancouver, British Columbia, Canada, where she now resides with her daughter, Piper.


4. Is Gillian married?


Yes, but currently separated. Gillian married Errol Clyde Klotz, a former X-Files crewmember. They were married on New Years Day 1994 in Hawaii. Says Gillian, "We kept it very, very small. In fact, it was just the two of us and a Buddhist priest on the 17th hole of this golf course in Hawaii."
Gillian and Clyde have a daughter, Piper Maru Anderson - born September 25, 1994. Piper was born by Cesarean and it was due to Gillian's pregnancy that the producers of the X-Files took a huge risk and had Gillian's character, Scully, abducted by aliens.
This later turned out to be a pivotal turning point in the show's history and major part of the on going mythological episodes. Gillian missed only one episode of the x-files ("3") while pregnant with Piper. Recently, Ms. Anderson and Mr. Klotz separated in October of 1996. Currently Gillian was dating Rodney Rowland.


5. What is the Gillian NF connection?


Gillian's younger brother, Aaron Anderson, was born with the genetic disorder Neurofibromatosis. Rosemary Anderson, (Gillian's mother), runs a support group in West Michigan for NF, and Gillian often does charity work for the non-profit organization NF, Inc. One recent event was the on-line auction on The Gillian Anderson Web Site in which Gillian donated several autographed items. This small effort raised over $6,000 (US) for the families and people suffering from NF. For more information, and to possibly make a donation, please go to the NF, Inc. Homepage or The Gillian Anderson Web Site.


6. What is Gillian Anderson like?


From all reports, she is a very intelligent, hardworking, and charming woman with an easygoing and bubbly personality (in other words, a heartbreaker to us guys) who genuinely enjoys her work. Even though she finds the schedule of working in a weekly show to be very stressful, you wouldn't guess it from her consistently exemplary performances. She is also very open and honest and possesses a quirky and charming sense of humor. Glen Morgan has referred to her as "very smart" and Chris Carter is also impressed by how hardworking she is (she was at work each day up until two days before her daughter's birth).


7. Does Gillian have an e-mail address?


No, Gillian does not have an e-mail address for fan mail. She does have a computer and does keep up with her on-line presence. To send Gillian a fan letter you must send it regular snail mail to any one of the address isted below:

Ms. Gillian Anderson
c/o The X-Files
555 Brooksbank Avenue
Bldg. 10, Suite 110
N. Vancouver, BC
CANADA V7J 3S5


Ms. Gillian Anderson
122 South Robertson Blvd
Los Angeles, CA 90035


Ms. Gillian Anderson
c/o The X-Files
10201 West Pico Blvd., Bldg. 75
Los Angeles, CA 90036


Ms. Gillian Anderson
c/o The X-Files
1201 Fox Farm
Big Bear Lake, CA 92135


8. What is the deal with that movie "The Turning?"


"The Turning," was Gillian's first motion picture. It has been highly toted as a porn flick. It is not! Gillian has a very minor role and appears in this film for all of 10 minutes. Those expecting to see the infamous "sex scene" will be in Gillian's own words,"sorely disappointed."


9. Did Gillian really have that nose ring and does she have a tattoo?


The answer is yes on both accounts. The nose ring, though, is a totally blown out of proportion tale as it was only there briefly. The tattoo came in 1996 while Gillian toured the South Pacific. It is on her right ankle and is a symbol from a native group on the island where Gillian got the tattoo it is of two turtles. Recently Gillian added a pierced naval ring.


10. Is there a Gillian Anderson fan club?


Technically no. There is no official fan club. There are several unofficial fan clubs for Gillian ranging from the GATB (which is closed to new members) to the one on The Gillian Anderson Web Site. For a complete listing of unofficial Gillian fan clubs visit The Link-O-Rama


11. Where can I find photographs of Gillian?


This answer depends greatly on where you live and how much money and time you have. You can try S&P Parker's Movie Market at 714/376-0326 or Hollywood Book and Poster Co. 213/465-8764. Most book stores or newsstands carry many of the major publications Gillian has been in as do many Sci-Fi or comic book stores in your area.


12. What are some of Gillian past works or performances and achievements?


Performances:
The Mighty - (Loretta Lee--co-star) 1997
Chicago Cab - (Brenda co-star) 1997
The Simpsons (Dana Scully--guest star) 1997
Future Fantastic (Host) 1996
Spies in the Sky (Guest host) 1996
Why Planes Go Down (Host) 1996
ReBoot (Data Nully--guest star) 1996
The X-Files (Dana Scully) 1993 - ????
Class of '96 - (Episode #8 - "The Accused")1993
Exit to Eden (audiocassette/Lisa Kelly) (1992)
The Turning (aka Home Fires Burning, aka Pocahontas, Virginia)
(April Cavanaugh) (1992)
A Matter of Choice (1988)
Three At Once (mid-eighties)
The X-Files Movie (due out in summer '98)

Achievements and awards:
1997 Emmy for Outstanding Actress in a TV Drama
Screen Actor's Guild Awards 1996
Screen Actor's Guild Awards 1997
Golden Globe Award 1997
Saturn Award 1997
1996 Emmy Nomination
1997 Emmy Nomination
Bachelor's Degree in Fine Arts- DePaul University's prestigious Goodman Theater School.
Theater World Award
1996 Golden Globe Nomination
TV Critics Nomination 1997
Honored by the Starlight Children's Foundation (1997)


13. What are all these abbreviations I see all the time?


CC: Chris Carter - Creator and executive producer of The X-Files.
DD: David Duchovny - Actor who plays the of FBI Special Agent Fox William Mulder on The X-Files.
DS: Dana Scully - FBI Special Agent and MD, Dana Scully is the role Gillian Anderson plays on The X-Files.
EW: Entertainment Weekly - An American magazine that focuses on the many aspects of the entertainment world.
FHM: For Him Magazine - A British publication. Gillian did an interview and a rather um... sexy photo shoot for in April 1996.
FM: Fox Mulder - FBI Special Agent and Oxford-trained psychologist, and is the role David Duchovny plays on The X-files.
GA: Gillian Anderson - Actress, Goddess, need I say more?
GAML: Gillian Anderson Mailing List - A mailing list devoted to Gillian Anderson.
GATB: Gillian Anderson Testosterone Brigade - The first Gillian Anderson group on the net. Features a web site with pictures and sounds. The formal GATB is not open to new members.
GAWS: Gillian Anderson Web Site - A web site and group that caters to Gillian Anderson fans world-wide.
JR: Joan Rivers - A mean evil woman who never says nice things about Gillian.
MP : Mitch Pileggi - The actor who plays Assistant Director Skinner on The X-Files.
NL: Nicholas Lea - The actor who portrays Alkex Krycek (aka Ratboy) on the show.
RS: Rolling Stone - A world-wide magazine.
TVG: TV Guide - A world-wide publication in one form or another. The American TVG has done several covers on The X-Files and one on Gillian herself.
UST: Unresolved Sexual Tension - Refers to the interaction between the to major characters that most people perceive from time to time.
WS : Walter Skinner - Assistant Director of the FBI, he is Mulder and Scully's superior.
XF: The X-Files - (TXF or X-F) A Fox show, started in 1993, created by Chris Carter, about two FBI agents who investigate so-called "X-files," cases that are potentially unexplainable by normal means.
#xf-ga - Gillian Undernet IRC channel now known as
#GillianAnderson
alt.tv-x-files - The X-Files newsgroup

END



---
Pagina Principal